Magnetic Mosaics Review and #Giveaway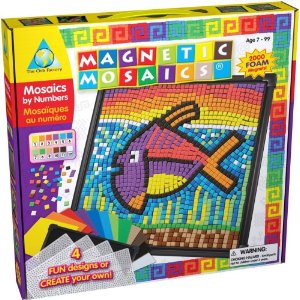 We love doing projects in our house. It's a great way to keep my Son busy without using a TV or video games. With this heat being outside isn't an option so when I was asked to review Magnetic Mosaics, I jumped at the chance.
Who are They?
The Orb Factory is a provider of award winning crafts and activities for kids. They are located in Halifax, Nova Scotia and have been in business for 21 years. As a creative toy manufacturer, The Orb Factory prides itself on creative designs, high quality products, and outstanding customer service. Their kits are easy to use, mess-free, and give amazing results every time. There is something for all ages.
My Review
When I told my son we would have a project to do later he was so excited. When I picked him up from daycare some 10 hours later.. he was chanting "Project project project". We started it when we first got home. This is really a great concept. We received 4 different pictures to work with. You place the picture on this square magnetic board. It reminds me a lot of paint by numbers but with magnetics. Each number is a different color and you have to match the small magnets with the numbers.
The pictures are rather big so my son got a tad bored with it half way through. Then he started making his own designs. I can see this being a great thing to take on road trips. It's small enough to sit on your lap and each magnet color has it's own bag so it's easy to organize and not get everywhere. I personally enjoyed doing this. If your bored on a rainy day this is a great project to do. The Orb Factory has many different types of Magnetic Mosaics to choose from as well.
Latest posts by Karla Urwitz
(see all)