Home Business Start Up
Who's the boss? Don't you just dream of getting up in the morning, getting the cup of coffee, kissing your family off to work and school and settling in at your computer for job. All in the comfort of your pj's?
Who wouldn't want to be their own boss. This is what I dream of. I have such a craving to work from home. Not only because it would be healthy on me mentally but also I would be happier and I could spend more quality time with my family. Here are 10 reasons why working from home is a benefit:
1. No More Alarm clocks
2. No more arrogant, ignorant, rude, lazy, world revolves around them, bosses
3. No more unreachable targets
4. No more pointless meetings
5. No more 'You can't have your holiday that week
6. No more 'We would love to give everyone a pay rise, but if we do, people are going to lose their jobs and it could be you.
7. No more 'You are just going to have to work longer hours for less money!
8. No more not knowing if you have a job next month.
9. No More, No Future!
10.This is the best reason of all! Because, when you have your own business and you are your own boss, there is no limit to what you can achieve and earn Take control!
You can have your own business, be your own boss and at the same time work your old job for your existing boss. Using your existing job to fund and support the 'Learning Stage' of your new business, will enable you to build slowly and correctly without the pressure of your new business being your only source of income. Here are some things you can do while still working at another job:
1.You need to learn about the business you chose. I.e. MLM, internet Marketing, Affiliate Marketing, Internet MLM, etc, etc.
2.How much time are you going to put by each week for your new business?
3.How much money are you going to invest?
4.You need to study and learn about the products or services you are going to sell or provide.
5.Make sure you, read, watch and listen to as much information as you can about your new business.
6.You will have to deal with friends and family telling you that you have made a mistake and that you should stick with what you know.
7.Does your new business operate by, face to face, telephone, direct mail, online, or indeed all of the above.
8.You need to set goals and targets and if you don't make them you can tell yourself off.
9.NEVER QUIT! You must persevere, if you REALLY want to succeed, you WILL.
10. There is know one to answer to, just you, so you will, from time to time need to have a word with yourself. You will probably start talking to yourself quite a bit, well I do anyway!
All successful people have one thing in common, they NEVER QUIT. How great would it feel if you went to your existing boss in six months time and said, 'I'm earning more at my part time job than I am at my full time job, I simply cannot afford to work for you anymore, GOOD BYE!' I for one can not wait to say those 2 little words "I QUIT"
These 2 books have helped me understand and guide me this this process. I HIGHLY recommend them.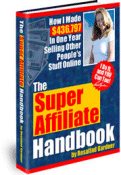 The Super Affiliate Handbook is the bible of affiliate marketing. It is chuck full of idea and suggestion on what to do and where to look. It has really helped me. It will get your mind racing.
The Complete Internet Marketing Moms Start Up Guide. While I am just diving into this book myself, this is an in depth book on how to start up a business and work from home. From choosing a domain name to Twitter, you can't go wrong with this guide.
Latest posts by Karla Urwitz
(see all)