Five Ways to Eat Healthy While Traveling- Including A Quick Healthy Breakfast Idea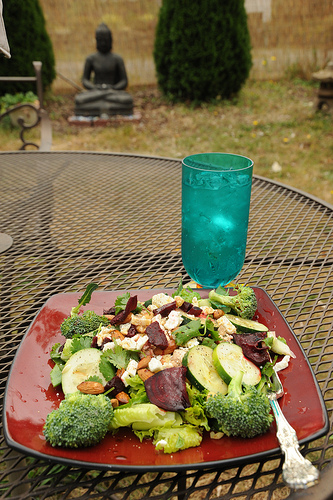 When you travel, healthy eating isn't always the first thing on your mind. Especially when you're busy getting the kids ready and double checking travel arrangements. You may have a structured meal plan at home, but carrying this out on the road or in hotels is not really practical. Fortunately, there are some ways to still stick to a healthy diet while traveling. For starters, many airports, hotels and resorts now offer healthy menu options. And yes I said airports. You might be surprised at the meal options at some of the larger airports. Here are five ways to eat healthier when traveling:
Pack Mini-meals
You probably won't have time to whip up an entire meal and stuff it in Tupperware containers, but there are some smaller items you can pack to feed the hunger as you go. Remember hearing something about not going to the grocery store when hungry? The same applies to traveling. If you got a rumbling stomach, you'll soon be salivating over McDonald's billboards. Plan ahead and pack some sandwiches and raw vegetables that will stay fresh for a while. Maybe include some crackers, dried fruit, protein bars and granola bars. Throw in a small salad or two and you're all set.
Plan Travel Meals Ahead of Time
You're already on the Internet making travel plans, so why not take a few minutes to make some meal plans? Go through your itinerary for each day and determine where you will be each day. Do an online search for local restaurants. This avoids the temptation to stop at the first place you see. Visit travel blogs for the locations you'll be visiting. Many locals post recommendations you don't usually find on flashy travel websites. Maybe even schedule a stop at one or two out-of-the-way restaurants. These places are likely to be more flexible with their menus and willing to make healthier substitutions so you can maintain your diet.
Plan Meals with the Hotel or Resort
Many hotels and resorts post their entire menus online. If you are going to a place that does not do this, you can still email them to request a copy of their menu. Some places will even allow you to make special meal requests, as long as you call ahead of time and make the arrangements. You can also make reservations at hotel or resort restaurants with healthy menu items. This doesn't mean you can't have the occasional treat. Part of the experience of traveling is to enjoy some of the local delights. Planning your meals with the hotel or resort is just a way of keeping things in balance.
Bring Protein Shake Mixes
Protein powder packets are designed for the traveler. These are great, easy-to-prepare packages that make a good snack or meal replacement. They make an quick healthy breakfast alternative. Granted, some protein shakes don't taste all that good. Just bring some fruit in a container to add to your shake to give it some added flavor. Check with the hotel or resort to see if you have access to a kitchen of if they'll let you use their blender. Simply turn your protein shake into a delicious – and still healthy – smoothie. Add ice and fresh fruit and you're all set. Add some fat free yogurt for a little extra flavor without the added guilt.
Look for Salad Buffets
if you don't want to pack pre-made salads, then do a little research and find restaurants with salad buffets along your travel route or at your eventual destination. This gives you a wide selection of fresh salad fixings – including fresh vegetables and fruits – that you can enjoy as a meal. Many salad bars include grilled veggies, fat free cheeses and lean meats. You don't have to be a rabbit and live on salads, but a salad buffet can be used for at least one of your meals each day to avoid doing too much damage to your diet. If you carefully select your salad items, you can get all the nutrients you need to stay healthy.
It just takes a little planning to find healthy meal options when you travel. Start by packing some healthy snacks to enjoy on the way. Call ahead to your hotel or resort and see if you can make meal arrangements or at least get a copy of their menu. Scope out local restaurants – including some with salad buffets – and brings a few protein shakes and you're all ready to stay healthy as you travel.
Greg Carter is a commercial driver and when he isn't on the road blogs for usedsemitrailers.com, a site where you can find all kinds of Used Trailers – even a lowboy trailer!
Latest posts by Karla Urwitz
(see all)