Make A Ball Review and #Giveaway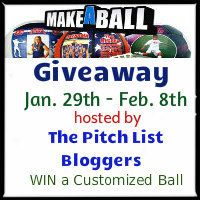 Personalized gifts are always the best ones to give. They show that you put a lot of thought and feeling into it. I was thrilled to get the chance to review a Make A Ball product.
About Make A Ball
Kids love to design their own t-shirts, hats and other materials for themselves or gifts to give their loved ones. Now, they can design and create their own personalized sport balls with a real professional feel by Make-A-Ball. Kids can put their own sport teams, pictures, anything they want on a football, baseball, soccer ball and more!
Make-A-Ball is extremely simple too. All you have to do is go on the website and follow these few simple steps:
•      Choose the type of ball (basketball, baseball, soccer  ball, hockey puck , etc.)
•      Then choose the layout
•      Choose a background
•      Finally, personalize your ball
This is a great gift for the holidays, birthdays, team sports dinner and any other special occasion.

My Review
I didn't know what to do at first and then I remember this goofy picture my brother let me take of him on our Wisconsin trip. What makes a better gift than a baseball with a picture of yourself wearing a cheese hat! He didn't think it was so funny but the rest of the family loves it.
Make A Ball is super simple to use. Their website is so user friendly anyone can do it. It's quick and easy. Now remember to plan for this. Your item is custom made so it will take some time to get it. These make such great gifts. If your a ball team, they would make great items for parents to buy.
The Giveaway
Latest posts by Karla Urwitz
(see all)