Summer Vacation: Things to Consider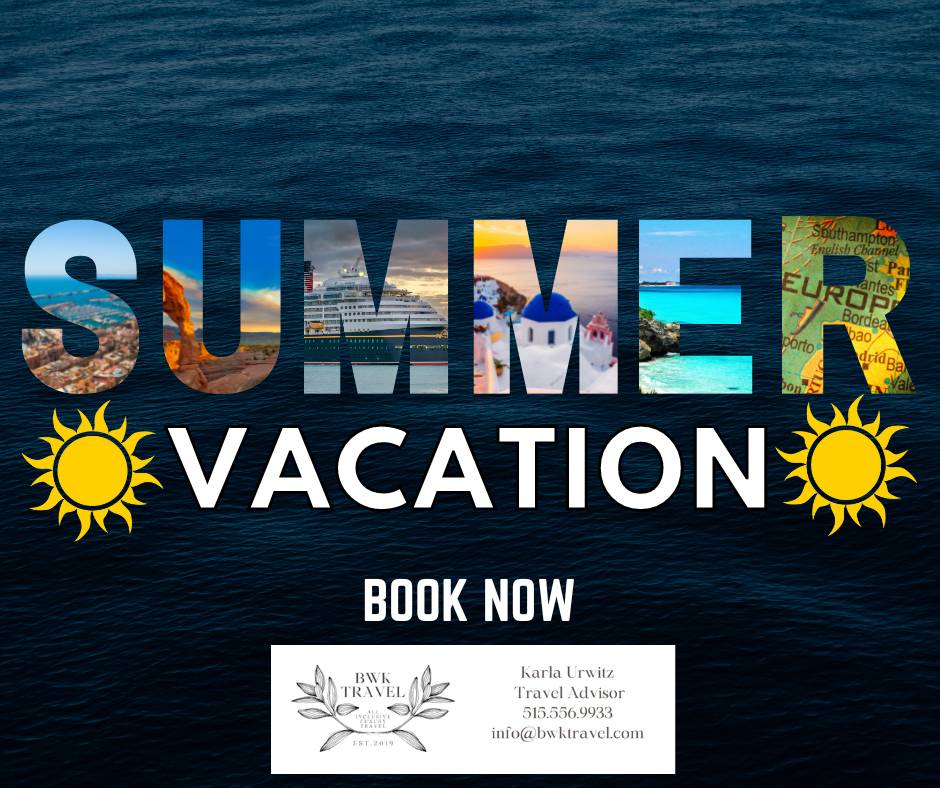 Summer is just around the corner, and with it comes the promise of warm weather, fun outdoor activities, and of course, summer vacations. Whether you're planning a weekend getaway or a week-long adventure, there are several things you can do to prepare for a stress-free and enjoyable summer vacation. In this blog post, we'll discuss what you need to do to get ready for your summer vacation.
Choose your summer vacation destination
The first step in getting ready for your summer vacation is to choose your destination. Whether you're planning to visit a national park, go to the beach, or explore a new city, it's important to do your research and choose a location that aligns with your interests and budget. If you need travel planning help, please reach out to us info@bwktravel.com or fill out our inquiry form
Book your accommodations
Once you've chosen your destination, it's time to book your accommodations. Whether you're looking for a hotel, vacation rental, or campsite, it's important to book early to ensure you get the best deals and availability.
Create a packing list
One of the most stressful parts of traveling is packing, so it's important to create a packing list to ensure you don't forget anything important. Start your list early and include everything you'll need for your trip. From clothing and toiletries to electronics and travel documents. Every trip booked with us will receive a free packing list 30 days before traveling. We want to ensure you remember the important things.
Purchase travel insurance
Travel insurance can provide peace of mind and financial protection in case of unexpected events. This covers items such as flight cancellations, lost luggage, or medical emergencies. Consider purchasing travel insurance when booking your trip. 100% needed. Did you know your US insurance will not cover you out of the United States? Trip insurance has medical coverage.
Make necessary reservations and arrangements
If you're planning to participate in activities such as tours, excursions, or reservations at popular restaurants, it's important to make these arrangements in advance to ensure availability. To ensure you get the exact things you want to do, purchasing ahead a time is key.
Notify your bank and credit card companies
If you're traveling internationally, it's important to notify your bank and credit card companies of your travel plans to prevent any issues with accessing your accounts while abroad.
Prepare your home
Before you leave for vacation, take steps to prepare your home. This may include stopping your mail delivery, arranging for pet care, and setting up security measures to protect your home while you're away.
In conclusion, preparing for a summer vacation takes a bit of planning and preparation. The effort is well worth it for a stress-free and enjoyable trip. By following these tips, you can ensure that you're ready for your upcoming summer vacation. Happy travels!
Latest posts by Karla Urwitz
(see all)