Blogging for Money
So Many Affiliate Programs! Which One Do I Choose?
Ask questions first before you join an affiliate program. Do a little research about the choices of program that you intend to join into. Get some answers because they will be the deciding point of what you will be achieving later on. There are tons of affilates out there, searching and find the best one for you is critical. You also want to know what your niche will be so you aren focuing on only type rather than having a webisite of all sorts of affiliates.
I am just starting this process myself but do find the following questions helpful when picking an affilate.
Will it cost you anything to join? Most affiliate programs being offered today are absolutely free of charge. So why settle for those that charge you some dollars before joining.
When do they issue the commission checks? Every program is different. Select the one that is suited to your payment time choice.
What is the hit per sale ratio? This is the average number of hits to a banner or text link it takes to generate a sale based on all affiliate statistics. This factor is extremely important because this will tell you how much traffic you must generate before you can earn a commission from the sale.
How are referrals from an affiliate's site tracked and for how long do they remain in the system? You need to be confident on the program enough to track those people you refer from your site. This is the only way that you can credit for a sale.
What are the kinds of affiliate stats available? Your choice of affiliate program should be capable of offering detailed stats. They should be available online anytime you decide to check them out. Impressions are the number of times the banner or text link was viewed by a visitor of your site.
Does the affiliate program also pay for the hits and impressions besides the commissions on sales? It is important that impressions and hits are also paid, as this will add to the earnings you get from the sales commission.
Lastly, what is the amount of commission paid? 5% – 20% is the commission paid by most programs. .01% – .05% is the amount paid for each hit. If you find a program that also pays for impressions, the amount paid is not much at all. As you can see from the figures, you will now understand why the average sales amount and hit to sale ratio is important.
These are just some of the questions that needed answering first before you enter into an affiliate program. You should be familiar with the many important aspects that your chosen program should have before incorporating them into your website. Try to ask your affiliate program choices these questions. These can help you select the right program for you site from among the many available.
A great resouces is the Super Affiliate Handbook.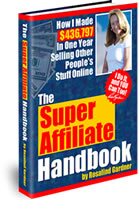 Known as the 'bible' of Affiliate Marketing, Rosalind Gardner's Super Affiliate Handbook is a MUST-READ for anyone who wants to become an affiliate marketer.
In a style that is friendly and humorous, the Super Affiliate Handbook is peppered with real examples of what Rosalind did to become one of the most recognizable Super Affiliates in the world. And she doesn't just tell you what she did right — she exposes the mistakes she made as well — to help you avoid potential problems.
Exceptionally well written, Super Affiliate Handbook covers absolutely everything you need to know about making money as an affiliate marketer.
I HIGHLY Recommended it.
Get the Super Affiliate Handbook today!
Latest posts by Karla Urwitz
(see all)