Calling All Hikers, Bikers, and Walkers: Find the Best Trails Online
One of my favorite things to do is take a nice long walk or run through a natural trail, enjoying the beauty of the world
around me, and the straight path in front of me. Others prefer to hike or bike along the same trails, often for much the same reasons. Living where I do, there are many of these trails near my home. Most of the world is similar, even in cities where just along the outskirts are beautiful places to enjoy a day outdoors. 
But how do you find these little hidden treasures? There are actually plenty of websites that have been created to show you different trails in and around your area. This is also great for anyone who plans on going on a vacation, or moving to a new area. You can find somewhere to indulge your hobby without breaking a sweat…at least until you get onto the trail. 
Here are my four favorite trail finding sites on the web. 

Without a doubt, this is the most comprehensive and easy to use site that I have found. The categories are well organized, and you can search by anything from distance to skill level. They provide trails for just about any outdoor activity, too. So the trails for runners might not be the same for hikers or bikers. It is refreshing to see a website take so much time to reiterate the differences between genres. After all, if you have spent much time out you might know that the uneven treks that are great for hikers and walkers, steep hills are better for riders than runners, and so forth. 
They also provide community reviews, local events, a quick search feature and a journal for your to keep track of progress, locations or anything you might have seen or experienced. That is fantastic for those in training. Since you can sign on through Facebook, you can show others your progress, as well. 
WikiWalki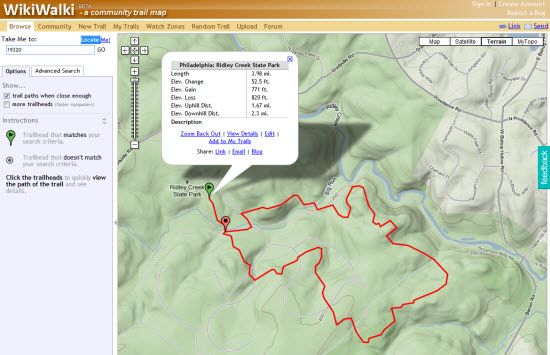 Less of a trail selector and more of a map program, you can set any trek using this easy to use program. Once you log on it will automatically trace your general location, and offer you the chance to create a trail anywhere nearby. Think of it as Google maps, but with your trail in mind. You can also see other people's trails in your area. 
Simply put, TrailDino isn't a trail tracker. Instead it is a database, and the largest on the web of links to different trails around the world. They have them for almost every country in almost every area. It is a great way to get a quick look at what will be near you, especially if you are planning to backpack or travel around a region for awhile. It can also be used to find ways between cities. 

While only based in the U.S, this site isn't bad for finding local areas where people commonly hike. It works as a kind of community review site, where people can give tips about trails, or just talk about their experiences. Groups can also post about weekly hikes or rides on this site. 
These are only a few of the great sites on the web for finding trails to traverse alone or with friends. If you like the outdoors and being active, here is a great way to plan your days out. Whether you want something near home, or you need a trek for you a time away, you can find what you need at the four sites above. 
This is a guest post by Jessy Troy who has just started two new blogs on fitness called Trainer Fitness and Define Fitness.
Latest posts by Karla Urwitz
(see all)